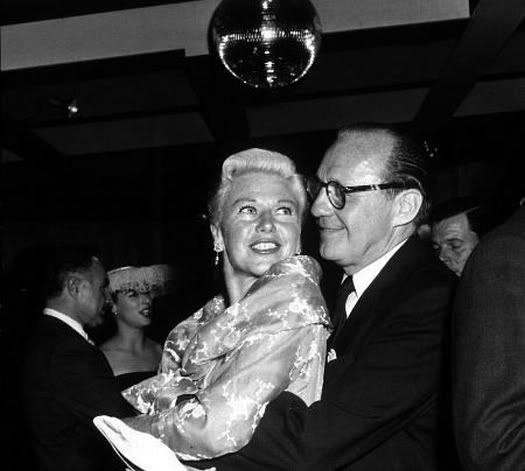 Hi all! Sorry I haven't updated in a while! I've been so busy! I don't have too much to report other than I saw Ginger on The Jack Benny Show today! That was a real treat! I used to always tape that show on Saturday nights since it's on at midnight and watch it Sunday morning. I hadn't done that in a while and thought I would and when I started it the next morning, at the beginning it said "Special guest star Ginger Rogers"! I was so excited, I literally jumped out of my seat screaming "yes!". Anyway, enough with my rambling. It was a hilarous episode, with Jack trying to reunite Fred and Ginger for an episode of his TV show (Fred doesn't appear in the episode), but I won't spoil it for those who haven't seen it yet.
I've got more to discuss, particually the ice cream debate that's been going on. You'll hear my thoughts on that later this week.
Now, I'm off to reply to your comments on my previous posts! Sorry I'm so late! This won't happen all the time (honest!) but I just started school a few weeks ago and am trying to juggle homework, plus after school activites and work. Now that I'm getting things sorted out, I can find time to post more often.
Jen
P.S. Thank you to all who have started following this blog! I hope to make it a place where people share their thoughts/whatever else on our dear Ginger. I hope you're enjoying it so far...